Fishing and football weekend. This group from Victoria enjoyed a day of trout fishing on Four Springs on Saturday, and watching Hawthorn at Aurora Stadium, Launceston on Sunday.
Main photo: Guide Gary with Nicholas. After a long period of bright sunshine, a little bit of cloud cover, and action! Nicholas caught this brownie on a pumpkin seed soft plastic.
Below: Joe landed this 5lb beauty on a black and gold t-tail soft plastic.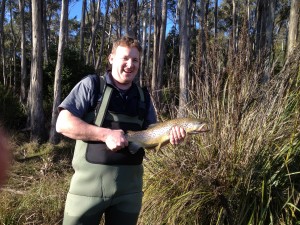 Below: Late morning, in bright conditions, in the shallows, Leroy feels a gentle nibble through the tip of his rod, eases it back and winds. 3lb of prime Four Springs brown trout comes to the net.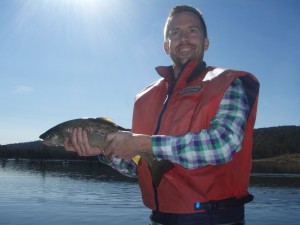 Below: just about to knock off for the day, and a solid hookup to another Four Springs brown. Kyl wrestled this one to the boat on a black and gold t-tail in the shade of the trees.