About Trout Territory
In January 2000, Gary and Fiona started Trout Territory, offering professional guided trout fishing tours. Over the last two decades they have immersed themselves in the tourism and fishing industries, and refining their service, growing Trout Territory into a professional and successful business.
In 2018 Gary and Fiona purchased the guided fishing tour business Fish Wild Tasmania from their industry colleague Bob McKinley when he retired.
Trout Territory – Fish Wild Tasmania is one of the longest running fly fishing tour operators in Tasmania, and is a respected, leading operator in the industry.
Gary and Fiona are both very active in supporting the Tasmanian trout fishery and the angling and tourism industries.

Gary France
Gary France has been fly fishing since 1975. His clients benefit from his knowledge and expertise of Tasmanian trout waters, trout habits, casting techniques, fly selection, entomology, stream craft, teaching skills, and much more. Gary has plenty of patience and a passion for sharing all sorts of trouty secrets.
Aside from his fishing guide hat, Gary has a few other hats…
Fiona Dewar
Fiona looks after our bookings, admin, and bookkeeping. After catching up on all that, these few things keep her busy…
Where are we
We are based in the Northern Midlands of Tasmania, Cressy – known as "Trout Fishing Paradise". Cressy is undoubtedly the hub of trout fishing in Tasmania. Trout Territory's central location at Cressy gives us the flexibility to take advantage of the fishing in all kinds of weather and conditions. With so many exciting trout waters within an hour or so of Cressy, anglers have a vast variety to choose from.
We work with other trout guides in the north and south so wherever you are based, we can arrange a great fly fishing tour for you.
Trout Territory's commitment to our guests
From the planning stages through to the last cast and beyond, Fiona and Gary are committed to providing their clients with a professional, memorable, and great value trout fishing experience.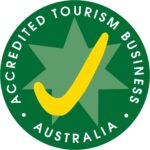 Trout Territory is fully accredited with Tourism Industry Council Tasmania. This is your guarantee that this business is a professional one with all the relevant licences, insurances, first aid and safety qualifications, their vessels are fully licenced under the relevant Government departments. Our accreditation is your assurance that out business is committed to quality and safety.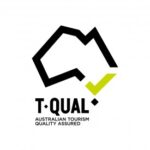 Trout Territory is a fully accredited T-QUAL operator. T-QUAL is the Australian Government's quality benchmark for the Tourism Industry. Your assurance of consistently high standards and a quality experience.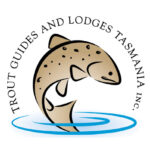 Trout Territory is a member of Trout Guides & Lodges Tasmania, the industry recognised body of professional Tasmanian trout guides. Gary is Past President (2010-2016).
Trout Territory's ABN: 78 198 101 541