Black Beetle – Dry Fly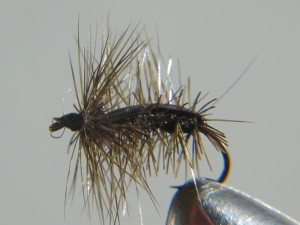 In Tasmania there are great numbers of beetles throughout the whole season. The cockchafers, tea tree and soldier beetles, the black click beetle, and many others. This is a good generic beetle, dry fly imitation. This fly could stand alongside the Red Tag.
Hook: size 8 – 1
Body: dark palmer cock hackle, tied in from the tail to head. Some clipping, especially under and over the hackle, is required.
Wing Case: black raffia or dark or black duck wing is pulled over the whole lot from tail to head, before the last hackle is tied on.
Hackle: dark cock hackle.